news
Nova Composites Celebrates the Inauguration of The Museum of The Future
Dubai's Museum of the Future was inaugurated on 22.02.2022 by His Highness Sheikh Mohammed bin Rashid Al Maktoum, Vice President and Prime Minister of the UAE and Ruler of Dubai, as Dubai's latest architectural icon officially opened its doors to the world with a new message of hope for all humankind.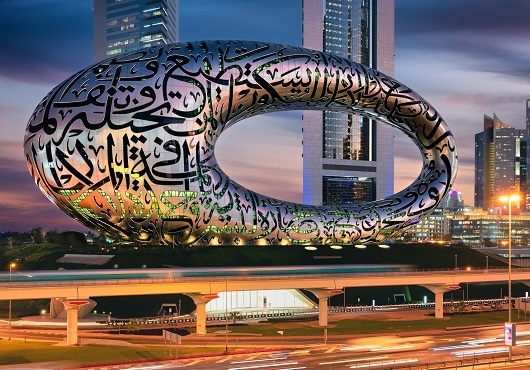 An incubator for innovation and invention, the Museum of the Future is one of the most complex structures ever built. The exterior facade of the torus shaped building comprises 1,024 fire-retardant composite panels. Clad with stainless steel, each panel is a unique 3D shape, integrating molded-in Arabic calligraphy. Nova Composites' sister company Notus Composites supplied 100% of the prepreg materials for the entire facade and Nova was honored to provide the composite design, fabrication, and support for installation of the final exterior panels.
The fire-retardant epoxy prepregs were laminated in CNC milled molds at Nova's factory in Dubai, before laser cut stainless steel surface finishes, glazing elements, and LED lighting systems were added. The panels were then delivered to site for installation.
"Our key strength is in having our own composite raw material production company as well as a manufacturing and finishing facility. We save on shipping costs and offer a reduced carbon footprint, both of which played a key role in the LEED platinum certification achieved by the museum," said Mihir Shah, Managing Director, Nova Composites Manufacturing and Notus Composites.
Images provided by Museum of the Future